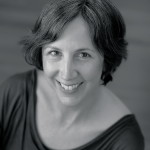 Amy Egenberger is an artist, educator and certified life coach living in Minneapolis. To explore her life experience and spiritual journey, Amy began using acrylic color to scribe prayerful text on canvas in September of 2009. In other art forms, Amy creates collage, assembles small doll-like figures from unique textiles and found objects, and writes poetry and prayers while creating.
An educator for over twenty-five years, Amy Egenberger now works as a mentor and consultant providing professional learning for teachers and creative people in business. She founded her own creative spiritual coaching business, "Spirit Out!," and specializes in helping people get their own creative projects out into the world.
Amy teaches groups of artists and others on The Artist's Way in her Spirit Out! Creative Spirit Classes and in The Right-Brain Business Plan® workshops. You can see more of her artwork at AmyEgenberger.com.