The Right-Brain Business Plan®: Turn Your Passion into Profit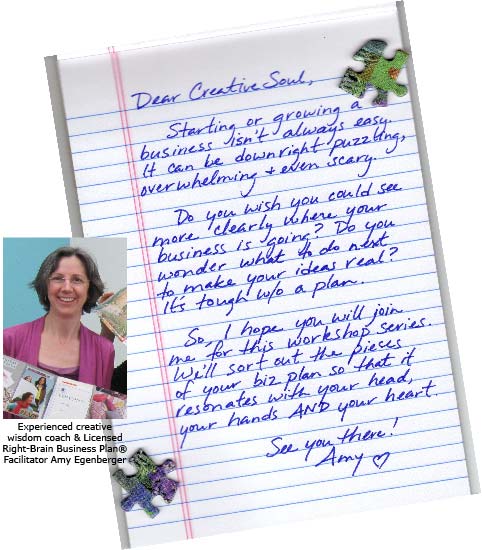 Do you know where your business is going this year and beyond?
How about a fun and creative way to plan for your entrepreneurial success?
Then come join the party at the Right-Brain Business Plan® workshops! You'll roll-up your sleeves and craft a visual plan that lets your head know where your business is going AND inspires your heart to sing with joy.
4 Wednesday afternoons (Take the Modules as a Package or "À la carte")
Foundations Module: Vision, Values and Voice May 28 1 – 4:30pm
Module 2: Painting Your Biz Landscape June 4 1 – 3:30pm
Module 3: Getting the Word Out June 11 1-3:30pm
Module 4: Managing the Moola, Creative Cohorts & Goals June 18 1-3:30pm
Gina Sekelsky Studio
2500 University Ave. W. #D6
St. Paul, MN 55114
(map)
Registration: $348
Sign up for Package of all 4 modules before 5/15 and save $50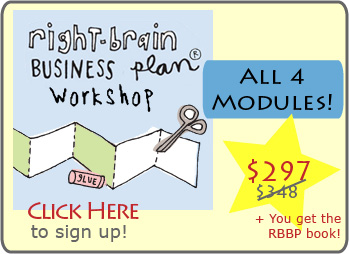 Note: class size is limited to 6, so register now
This fun and interactive course is perfect for you if…
You don't have a business plan and know you need one, but doing dirty dishes, dealing with loads of laundry, or even getting a head start on next year's taxes all sound way more appealing (ugh!)
You've tried to do a business plan the "traditional way" and you got stuck, overwhelmed, and demotivated
You already have a business plan, but you need to breathe new life into it
You can't stand spreadsheets.
Numbers numb you out.
AND you'd be a heck of a lot happier planning your business in the same intuitive, authentic, and expressive way that you live your creative life (yes, indeed, it can be that fun and fulfilling!)

You get the following (and much, much more!) from this workshop:
Detailed, do-able assignments… that deal with all the parts of a business plan, from start to finish
Intuitive exercises and inspiring materials… that tap into your natural creative genius, transforming drudgery into joy
Hands-on support, guidance, and accountability… from an experienced certified coach and course facilitator plus the wisdom and perspectives of your fellow creative cohorts in the circle.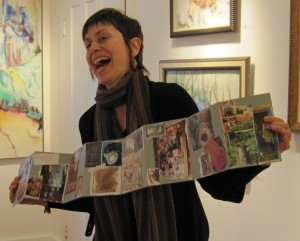 "Worth every penny! Rich material facilitated by Amy, the "real deal." Fits no matter where you're at."
—Beth DeZiel, Professional Organizer
lassollc.com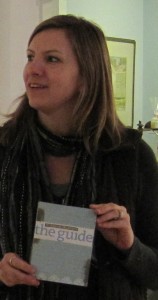 "It was all valuable! A great place to start
to flesh out the business stuff for new businesses and established."
—Jodi Reeb-Myers Fine Artist
jodireebmyers.com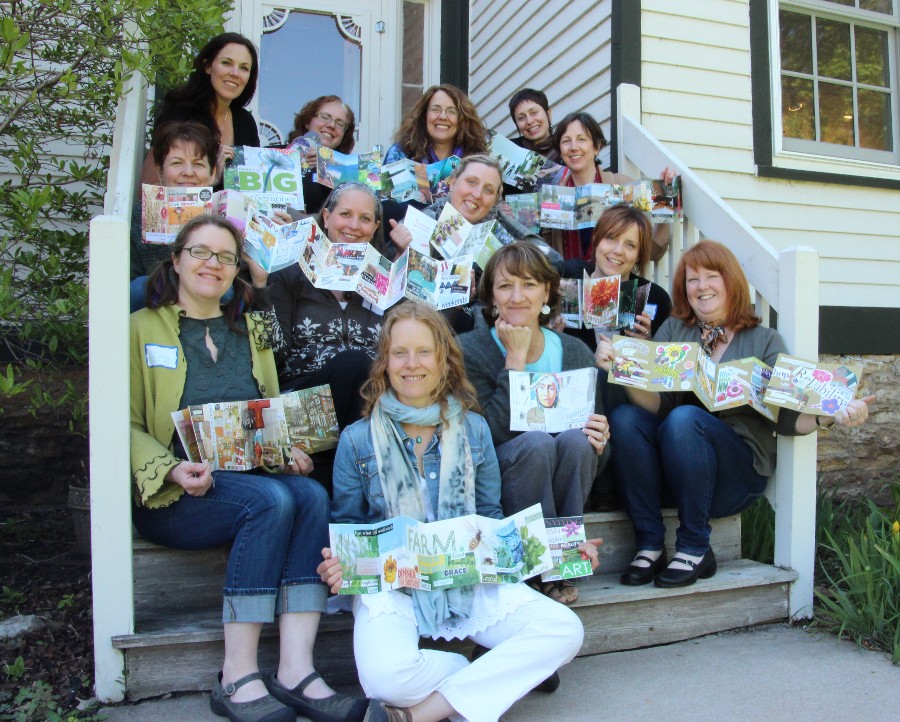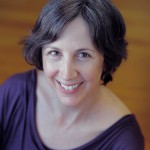 Led by Amy Egenberger, a Right-Brain Business Plan® Licensed Facilitator, life coach, artist and founder of Spirit Out! Coaching. Amy helps people tune into their inner wisdom in their work, relationships, art and home life to really ratchet up honest co-creative power.
By the end of these 4 workshop modules, you will have learned how to:
Clarify your business values and vision
Paint a picture of your business landscape
Determine what products and services you'll offer
Understand your competition, and what makes you stand out from the crowd
Identify who your perfect customers are and how you'll reach them
Set and manage money goals that honor your values and align with your life
Select your circle of support to help you get the work done
Map out concrete action steps to bring your Right-Brain Business Plan® to life
Have more questions? Check out the FAQ.
Course Materials Included!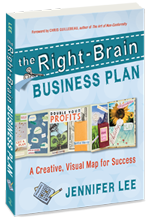 Your registration for the Vision, Values & Voice Module includes a copy of the book The Right-Brain Business Plan plus all the materials, illustrated play sheets, and other fun art supplies you'll need. If you already have the book, you can share this one with a friend!
Please bring:
Magazines, ephemera, stamps, or any of your other favorite art supplies.
Any existing material about your business – business card, brochure, fliers, back-of-the-napkin chicken scratch of half-baked ideas about your business (anything that will inspire you and help you vision and plan for your business).
Light snacks will be provided.

A valuable experience that provides direction and inspiration:
"Amy's overall guidance and creative steps brought a particular clarity to the direction of my company. It was not just a crafty cut-and-paste project. It was so much more! I found the whole experience very valuable, and one from which I continue to draw upon for direction and inspiration moving forward with my fledgling company."
Lori Anne Yang, Mammaste®, Divinity in the Everyday!
mammastemama.com

"This was an incredibly productive and creatively fulfilling day with Amy Egenberger and a wonderful group – launching my art business plan starting with collage and glue sticks – yes the plan is working!!!
In the two months since the workshop and I had a successful studio gallery show and installation, sold 5 paintings, written two applications for Calls for Art for local hospital settings, have some new ideas brewing…AND the creative process alive!!!"
Maris Gilbert, Artist
MarisGilbertArtist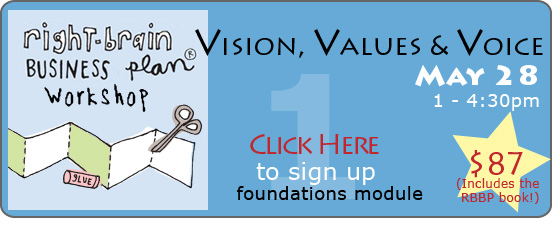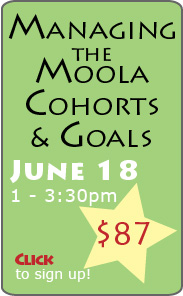 Take the foundations module (Vision, Values & Voice) and
select any of the other 3 modules.
Or, sign up for all 4 modules together!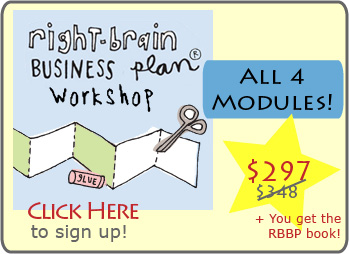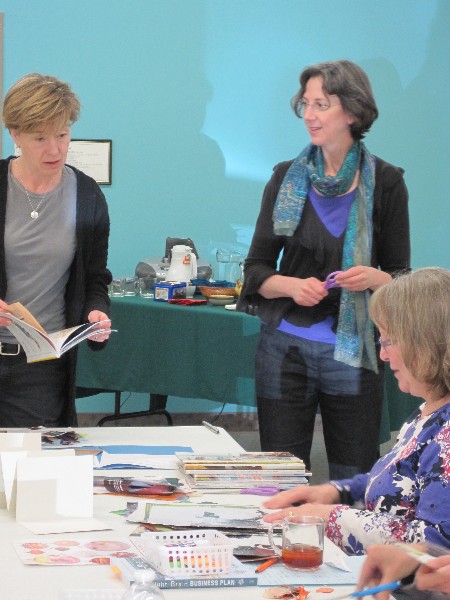 Right-Brain Business Plan is for any creative-minded business owner who wants to plot a plan for success. If you hate spreadsheets, feel overwhelmed when you think about sales reports, or don't really know what a Profit and Loss report is, try approaching your business plan from the right-brain perspective.
You'll get ideas and support from your classmates and me, of course!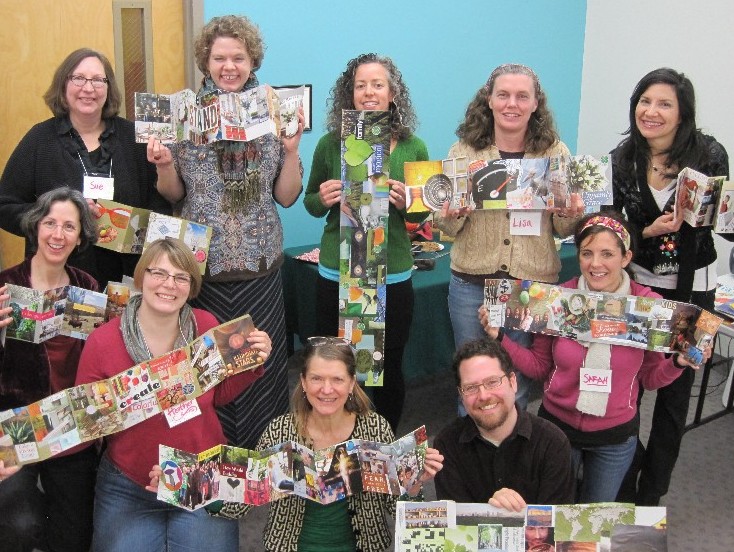 Come shine some creative light on your biz path.
Register Now for all 4!