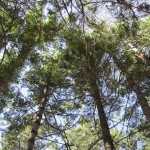 Sometimes, you just gotta look up. I do, anyway. This has been a challenging stretch along my life path, with unexpected obstacles, painful experiences and what have felt like weighty forces operating counter to what I know and believe.
In the context of all that, I'm practicing setting it aside. Reviewing and dealing with matters as I need to, when I choose and with real support. Practice also includes consciously caring for myself. Finding healthy spots like this circle of pines that coaxed me to look up. It smells so good! And there it's clear, the kindness of the trees, swaying dramatically on this very windy day, encouraging my spirit out as only pine trees can.
What do you see when you look up? What is the view above and from above whispering to you this day?