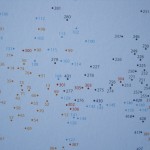 My neighbor gave me the best gift. A dot-to-dot book!
Remember those?
When it is particularly challenging to see the order in what seems chaotic, I find it tremendously satisfying and reassuring to do a little dot-to-dot.
Even though each portrait in the book has 1000 tiny counts, and a magnifying glass is a must, I love that consecutive lines can be drawn and a smattering of points made meaningful.
What dots are you trying to connect in life these days?
What sort of puzzle-practice feels relaxing to you?
Giving the mind something linear to attend to can allow peace and the creative spirit out!