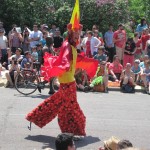 Lifting spirits along the May Day Parade route, creative souls walked tall in the streets. How must it feel to move and wave and smile from inside one's creative expression? Creative fire on stilts this time! No, our creativity isn't always part of a public fest, but how fun it is to witness the lively creations of others. Embodied, expanded, shared and multiplied by the smiles and inspired cheers of parade goers.
What inspires you? Something about being in and a part of this community celebration, inspires creative energy, courage and acceptance that I brought home with me.
May you notice creative spirit out in the streets today.