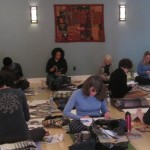 Once again, the New Year Intention Celebration was a magical success!
In collaboration, Sheila Burns, owner of Bliss Yoga Studio and I, founder of Spirit Out!, co-led this 4th annual event.
Rather than thinking up goals or resolutions, we make space and safety invite 2015 intentions in. To discover one's own inner desires and direction is so very powerful when we artfully facilitate our awareness to mind, body and heart wisdom that is present.
The collages are beautiful, and offer both clarity and mystery to the unfolding journey of the year ahead. The creative depiction of intentions discovered this way gently opens the door to spirit out!
What are your intentions for the year ahead?
Be sure to join us at year-end.